Arteïa Lab
At heart, Arteïa is a technology company striving to innovate for the benefit of various art market actors. From collectors and artists, to galleries and wealth managers, we are looking for ways you can connect yourself and others with the art you love and to make your life easier in the process. Here are some of the questions we ask ourselves every day on this journey and the direction we traveled so far. If you are interested in any of this, feel free to contact us!
How to better nurture the
legacies of artists?
Can an artist be sure that her artworks will be correctly attributed in the future? How can she narrate the story of her work herself without the fear it will be skewed or misappropriated?
To solve these questions, we have harnessed the power of blockchain technology. The primary use of distributed ledger that is relevant here is as a vehicle for immutable and decentralized data storage.
In particular, as a tool to track and save provenance data of artworks or to officially and securely associate them with a particular artist. We have tapped the latter use case to offer a first ever online, digital Catalogue Raisonne anchored on a blockchain.
READ MORE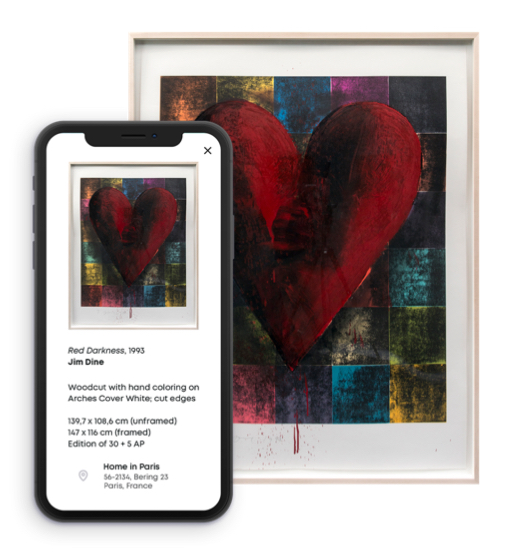 How to make retrieving information faster and easier?
We are developing a deep learning based solution for artwork recognition. A user points his smartphone at a painting and the first algorithm recognises where the artwork is in the photo. The second one generates a digital description of the object, which is then compared with a predefined set of its kin. The closest entry is the one associated with the original painting in the database. Such capability is useful for gallery and museum goers or collectors trying to find a particular painting in a digital Catalogue Raisonne.

Another application we are working on is a recommendation system that uses visual, deep neural network generated features of artworks to quantify their visual style. This can be used to personalize a user's feed or help him with searching for objects that are appealing to his particular tastes.
How to protect the authenticity of artworks?
Counterfeiting is still a major problem in the artworld. The diversity of artworks and the complexity of the art market means that there is no silver bullet that would solve it in its entirety.
Thanks to modern technology, for some art segments, there are however ways to make the cost and effort of fraudulent behavior prohibitively high. Our R&D in this area led us to embrace state-of-the-art Near Field Communication chips with their modern, cryptographic capabilities.
With additional security layers, they have become the core of the authentication system we are currently developing.

How to connect the artworld?
One of the features of the art market that prevents it from reaching its full potential is its fragmentation. We keep our data in its silos and there are no widespread protocols for communicating between them. This is why we are spearheading the building of the Art Identification Standard. The main aim of this organisation, which gathers close to twenty representatives of the industry, is to agree on a common way to identify artworks. Such an id would have to be unique, persistent and resolvable, however we would like the system governing it to be sustainable and to the highest possible extent open. One of the technologies we are looking into in this context are decentralized identifiers.
READ MORE